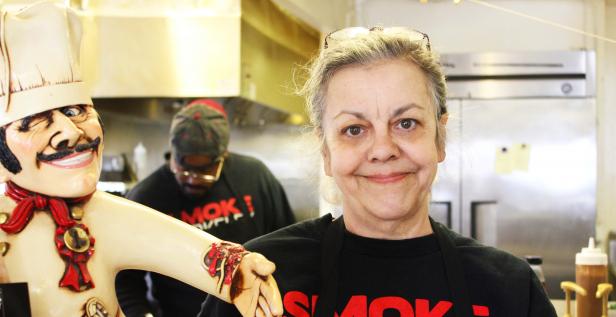 Tina Ferguson-Riffe, Smoke Berkeley
Opportunity Fund Helps Unemployed 62-Year Old Become First-Time Entrepreneur
Born and raised in Texas, Chef Tina Ferguson-Riffe tapped a unique source of start-up funding to get Smoke Berkeley, her new BBQ restaurant, off the ground.
"I got a call out of the blue. It turned out my father had owned some water rights in Texas, and 20 years after he passed away, the landowners wanted to buy the water rights. They tracked me down, I sold the rights, and then used the money to start this business. So it's almost like this restaurant is a gift from my daddy, 20 years in the making," said Tina.
The timing was perfect; Tina was laid off in 2008 and was out of work for three years before opening Smoke Berkeley. She was 62.
"I started this business because I wanted a job and it's hard to get work at my age," said Tina.
Tina opened Smoke Berkeley in 2011. She was sensitive to the challenges of unemployment and worked with Rubicon Programs, a nonprofit that prepares very low-income people to achieve financial independence, and hired a few formerly incarcerated and/or homeless people to work for her.
With her hard-working staff in place, the team began to produce excellent BBQ. And to rave reviews! But a year later, Tina needed additional financing to become more profitable.
In September 2012, Tina took a business course that referred its students to the community development financial institution (CDFI) Opportunity Fund. Tina approached the CDFI and secured a $20,000 loan to buy equipment that would help her increase the volume of customers and ultimately, revenue. It worked!
Despite the restaurant's success, barbecue is a seasonal cuisine. In good weather, Tina sees more business than in the rainy months. So Opportunity Fund offered Tina an EasyPay loan, its one-of-a-kind loan product. EasyPay is an innovative automated loan repayment system that allows borrowers to repay loans through a small, fixed percentage of daily credit/debit card sales. Instead of making monthly payments by check, EasyPay borrowers can base their loan repayment on their actual credit/debit card revenue. 
Opportunity Fund's unique EasyPay loan product was awarded a $100,000 Seed Capital Award from the Wells Fargo NEXT Awards for Opportunity Finance in 2012. This program is the CDFI industry's largest and most prestigious annual awards program.
"With the NEXT Award, Opportunity Fund was able to take this EasyPay loan product from prototype to scale. We knew that providing access to capital was just the first step. With the invention of the EasyPay loan, Opportunity Fund now has something that makes the funding even more affordable for our borrowers, like Tina, ever increasing the impact we can have to help small business owners thrive."