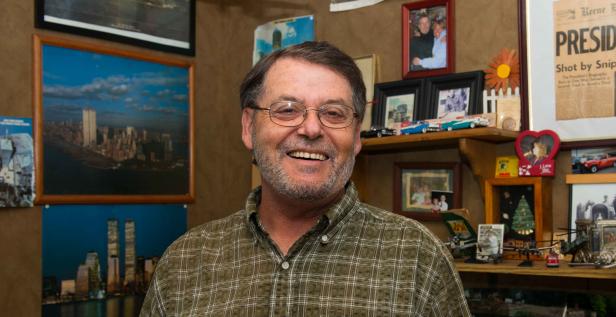 New Hampshire Community Loan Fund
Veteran and Wife Purchase New Home with Help From New Hampshire Community Loan Fund
When a ceiling panel crashed onto Larry and Brenda Woods' kitchen floor, they knew it was time to replace their old manufactured home. The couple had lived in the same home in Pine Grove Mobile Home Park since shortly after Larry returned from Vietnam in 1971.They wanted to stay in the resident-owned community, but their bank wouldn't finance a replacement home in Pine Grove. That left the Woods with the possibility of having to say good-bye to their longtime community.
Luckily, the Woods had another option: the New Hampshire Community Loan Fund (Community Loan Fund), a community development financial institution (CDFI). Larry had recently co-signed a home loan from the Community Loan Fund so his son could buy the house next door. So when his bank failed to help, Larry and Brenda applied for their own financing from the Community Loan Fund. And on Brenda's birthday, the CDFI approved their loan application. With the loan, they were able to purchase a new, energy-efficient manufactured home that is both safe and affordable—and which lets them stay in Pine Grove, their home of more than 40 years.
"The Community Loan Fund made our dreams come true in more ways than one," says Brenda Woods. "We own a gorgeous new home, our electricity and heat costs are much lower, and Larry, who battles Lymphoma, won't have to shovel the roof in the winter. We are grateful that the Community Loan Fund was willing to help us when others wouldn't." 
The Woods are one of nearly 700 families whose homeownership dreams were realized thanks to the Community Loan Fund, which won a $5.5 million award from the Wells Fargo NEXT Awards for Opportunity Finance for expansion of an innovative financing program for manufactured housing mortgage loans. The NEXT Awards recognize innovative CDFIs that responsibly serve low-income and low-wealth people and communities. This award enabled the Community Loan Fund to provide loans to more people, like Brenda and Larry.
"Since 1984, the Community Loan Fund has provided financing, training, and technical assistance to help homeowners in manufactured housing parks (sometimes called "mobile home" or "trailer" parks) purchase and manage their communities as cooperative corporations," said Community Loan Fund CEO Julie Eades. "We realized that homeowners in these co-ops were trapped in predatory home loans, so we began offering a loan product with low down payments and no credit score requirement. The NEXT award validated the success of these loans and allowed us provide more loans to save the homes of more people who couldn't secure financing otherwise, like the Woods, and to expand to other markets."